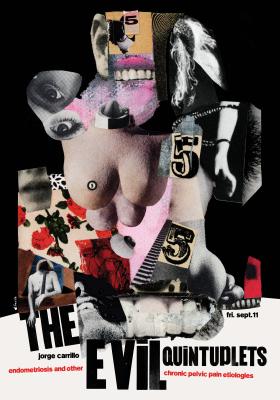 The Evil Quintuplets: Endometriosis and Other Chronic Pelvic Pain Etiologies
Chronic overlapping pain conditions (COPC) are a set of coexisting conditions, more prevalent in women than men, that are recognized by the National Institutes of Health and the US Congress. These conditions have in common pathophysiological mechanisms in the endocrine, neurological, and immune systems and include, but are not limited to, vulvodynia, endometriosis, interstitial cystitis/painful bladder syndrome, irritable bowel syndrome, temporomandibular disorders, myalgic encephalomyelitis/chronic fatigue syndrome, fibromyalgia, chronic tension-type and migraine headache, and chronic low back pain. It is important to recognize the visceral component of COPC, and how visceral structures are frequently affected in patients with chronic pelvic pain due to COPC. Chronic visceral pain syndromes are more frequently encountered in COPC. Neurological mechanisms of visceral pain are different than those for somatic pain, and the clinical characteristics, perception, and psychological processing of visceral pain also differs from somatic pain. Depending on the visceral organ involved, chronic visceral pain can be associated with severe limitations in physical functioning, impacting daily activities and quality of life, such as work, sexual activity, mobility, interpersonal relations, and other activities necessary to maintain health and hygiene. In this course we will discuss, from a visceral perspective, the COPC commonly encountered in patients with chronic pelvic pain; discuss the disease mechanisms of COPC; and review common pharmacologic and nonpharmacologic therapies for COPC causing chronic pelvic pain.
Learning Objectives
Define chronic overlapping pain conditions
Describe visceral pain from an anatomical and functional point of view
Review conditions causing chronic pelvic pain including endometriosis, bladder pain syndrome/interstitial cystitis, IBS and pudendal neuralgia
Discuss common pharmacologic and non-pharmacologic therapies for different conditions causing chronic pelvic pain
Available Credit
1.00

AAFP

1.00

AANP

1.00

ACCME (All Other)

1.00

ACCME (MD/DO Only)

1.00

ACPE Pharmacy

1.00

ANCC

1.00

APA
Required Hardware/software
A computer with an internet connection
Internet Browser: Internet Explorer 7.x or higher, Firefox 4.x or higher, Safari 2.x or higher, or any other W3C standards compliant browser
Other additional software may be required such as PowerPoint or Adobe Acrobat Reader.